Ultraslastin with Stevia Extract
з екстрактом стевії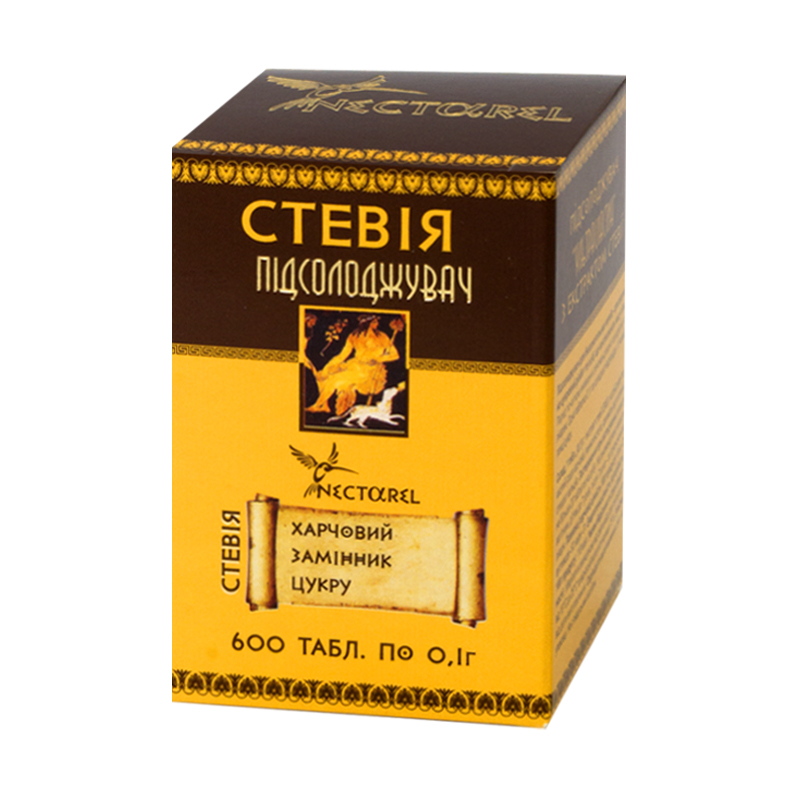 INDICATIONS FOR USE
It is recommended as a sweetener for people with diabetes mellitus and for persons, controlling their weight.
COMPOSITION
Stevia extract, sodium bicarbonate (baking soda), tartaric acid, potato starch, calcium stearate.
DESCRIPTION OF EXISTING SUBSTANCES
Stevia is a safe sweetener. Its sweet taste is due to the presence of steviosides. Stevia is 10-15 times sweeter than sugar, while it has low calorific value, its intake has no negative effects. It is recommended instead of sugar in case of obesity and other metabolic disorders. As stevia has tonifying and strengthening effect it is recommended as a dietary supplement for sportsmen, as well as in case of increased mental and physical loads.
METHOD OF APPLICATION
One 0.1 g tablet corresponds to the sweetness of 1.5 teaspoon of sugar. Take maximum 20 tablets a day.
CONTRAINDICATIONS
It is not recommended for pregnant women, children under 7; children in the age over 7 use the supplement as prescribed by a doctor.
KCAL / 100 G ENERGY VALUE
110 kcal
FOOD (NUTRITIONAL) VALUE OF 100 G PRODUCT
Proteins – 0 g, fats – 0 g, carbohydrates – 50 g.
ISSUE FORM
100 mg tablets N600
SHELF LIFE
24 months